Many locks come with a master key if required, most commonly for caretakers or building owners who require a master key door lock system in case of misplaced or stolen keys. A master key allows the keeper to open a number of locks from one key, despite each lock having its own individual key. Read on to find out more about how they work and what they do.
The difference between mastered and non-mastered lock systems
Locks that are mastered are manufactured to open using the key as supplied and a master key. So if any of the keys are misplaced, the master key can be used to open any of the locks in that particular set or suite. Locks that are non-mastered can only be opened by the key supplied with the lock.
The choice between opting for a mastered locking system or not depends entirely on the security levels required for your establishment. For example, buildings where keys are handed out to members of staff, guests, or customers frequently have a higher chance of keys becoming lost or misplaced. A mastered locking system would be favored as accessibility would remain in the control of the building owner.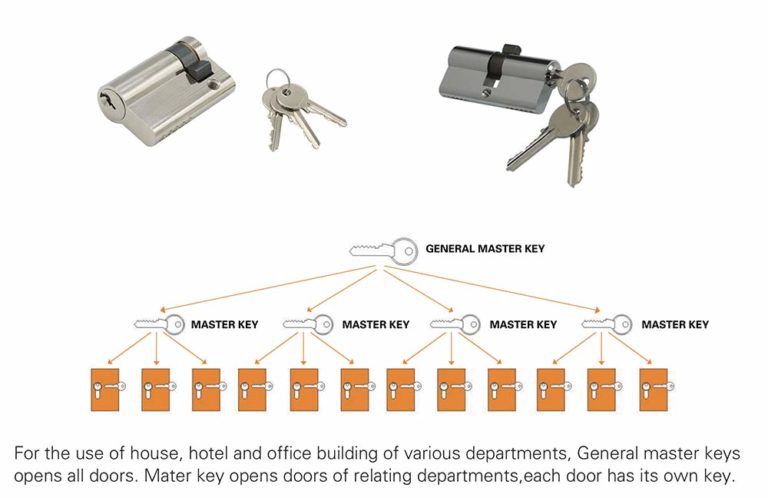 The difference between keyed alike and keyed to differ locks
Locks that are keyed alike (keyed to pass) all have the same key number so one key opens all the locks in that particular set or suite. Locks that are keyed to differ have different key numbers, so each lock in that particular suite or set requires an individual key to open it.
In some buildings, different security levels may be required, meaning that there may be one master key for the entire building, however, a cleaning or maintenance team may require access to a certain subset of the building but not all of it for security reasons. Another type of master key, or sub-master key system, can be designed.
Are master keys available?
Master keys are only available for locks that have been 'mastered'. You cannot have a master key for a lock that is non-mastered. Master keys are difficult to replicate, meaning that a high-street key replacement service may not be able to replicate the key to a working level. If you require a replacement of the master key, it is recommended that you contact your lock supplier directly
Intelliware manufactures locks and locking systems for industrial and commercial properties. If you are looking for a master key door lock system, please contact us. We will provide our suitable advice to you.